Return Of The Iron – October 2013 Powerlifting Comp: Recap
Strength Sports Gym had 6 lifters compete at the return of the iron powerlifting competition, which was the second PA/IPF competition held at Iron Underground.
Our 6 powerlifters were: Shelley Stark (F84), Sven Laasme (74), Phil Grant (93), Dan O'Dempsey (105), Paul Muller (105) and Andrew Lockwood (120).
Unfortunately Paul Muller had to pull out of the competition following his opening squat after succumbing to an injury he carried into the comp.
One of our powerlifting debutants at this competition was Shelley, who had started powerlifting training at SSG under coach Benji McMaster just a couple of months ago.
Squat
Shelley opened her squats on 75kg and followed it up with a strong lift of 80kg, finishing with 2 from 3 attempts after narrowly missing 85kg on her third attempt.
Sven and Phil also finished with 2 from 3 attempts. Sven nailed his third attempt on 180kg which was a 10kg PB for him, and Phil managed a tough lift on 220kg (2.5kg PB).
Dan and Andrew started their day perfectly, both going 3 from 3 in squats.
Dan, in just his second powerlifting competition was primed for a 220kg squat on his third attempt, and everything came togethor perfectly for him, with 3 white lights for a 15kg PB.
This was Andrew's first powerlifting competition, and his previous best/heaviest squat he had done was 175kg.
After making his 175kg opener look effortless, we jumped to 185kg which Andrew lifted with relative ease. We took a big jump to 200kg for his third and final attempt and Andrew executed the lift perfectly.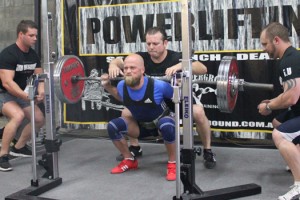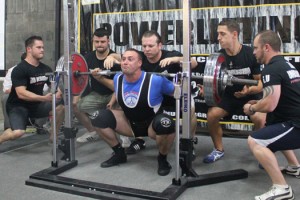 Bench
Shelley went 2 from 3 attempts in the bench, finishing with 47.5kg after 50kg proved to be a bit too much on the day.
Phil and Andrew also managed 2 from 3 attempts; Phil pushing out 135kg for a 12.5kg comp PB and Andrew blasting up 142.5kg on his second attempt for a 7.5kg PB.Sven and Dan had a flawless performance on bench, both successful on all attempts and achieving personal bests. Sven lifted 127.5kg which was a 5kg improvement from his last comp just 8 weeks earlier, and Dan lifted a personal best of 140kg which was a 7.5kg PB.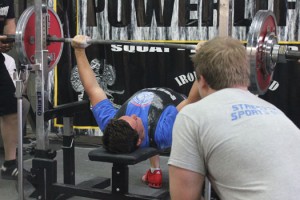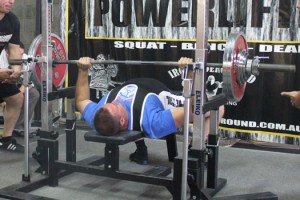 Deadlift
Onto the deadlifts, and time to secure a competition total.
Dan, Phil and Andrew had all positioned themselves to take home a 600kg total after strong lifting in the squat and bench.
Shelley smoked all of her deadlifts, finishing with 127.5kg and showing alot of strength, and potential for more in her lifts with more technique work.
Click Here for Shelley's 255kg Total VIDEO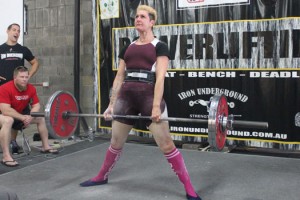 Following on from his squat and bench press PB lifts, we had Sven primed for a 210kg deadlift to execute his goal total of 517.5kg and to secure 10th on the Australian rankings in the 74kg class. Sven successfully battled his way through a gutsy pull to the cheers of the crowd to finish the day strong.
Click Here for Sven's 517.5kg Total VIDEO
Phil had gone 2 from 3 in both the squat and bench after suffering the effects of some comp-week sickness, but he still managed to pull 245kg on his second attempt to secure the 600kg total, and 8th on the Australian rankings in the 93kg class.
Click Here for Phil's 600kg Total VIDEO
Andrew opened his deadlifts on 230kg (5kg PB), and followed it up with a fast 245kg lift on his second attempt (20kg PB).
With a 600+ total on the line, we called for 260kg on his third but it proved to be a little too much as Andrew wasn't quite used to having to grind out a lift. He still managed to finish with massive PB's on every lift, and showed great potential to be a force in the 120kg division. Click Here for Andrew's 587.5kg Total VIDEO
On the back of 6 from 6 attempts, Dan pulled his first (215kg) and second (230kg) attempts to set himself up for a final attempt on 240kg.
Pulling 240kg would be a 20kg PB and would secure the 600kg total for Dan.
With nothing to lose and everything to gain, Dan ground out an epic lift which demonstrated great technique, persistance and patience.
Click Here for Dan's 600kg Total VIDEO