Strength Sports Gym Powerlifting Challenge – August 2013 Powerlifting Comp: Recap
Alot of planning and preparation had gone into this competition from both the lifters, and the organisers to make this event a success. Once entries closed, 1 week out from competition, we quickly realised we would be set to host one of the biggest competitions in Queensland powerlifting history – no easy feat for our first IPF/PA competition!
After a few technical glitches, everyone was packed in and the lifters and spectators were ready for action.
The girls were up first, and as is frequently becoming the case, they drew the biggest crowd with around 100 spectators for their session.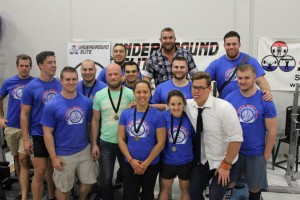 The Girls
The Strength Sports Gym powerlifting team had 5 girls in the competition: Natasha Day (52), Chyna Howlett (52), Sarah Petchell (72), Zoe Deeks (72) and Jess Gilbert (84).
Squat
Zoe, in only her second powerlifting competition, finished with 105kg, which was a 10kg PB.
When Zoe first joined SSG her best squat was around 70kg, not bad progress for under 12 months!
This was Sarah's first powerlifting competition, and with only 6 weeks of powerlifting training at SSG she put 10kg on her previous best squat with 110kg.
Natasha went 2/3 after sinking her 2nd attempt on 95kg, though she came back to blast it up on her third attempt, which was a 2.5kg PB with more in the tank.
Chyna had recently lost her Australian junior record in the squat, and she was determined to get it back. She took the record back in style, squatting 93kg, 97.5 & 102.5kg all with relative ease!
Last but certainly not least, we had Jess Gilbert.
After missing an attempt at an Australian open bench record at her last comp, I felt this comp was very much Jess's day to shine and reap the rewards of all of her hard work that she put in to her competition prep.
Jess showed why she is easily one of the biggest and best squatters in Australia, as she lifted 135kg, 142.5kg and finally 148kg for a new Australian open record!
Bench was up next, and Natasha finished with 52.5kg after missing 55kg twice.
Sarah and Zoe both went 2/3 and finished with 65kg and 70kg (5kg PB) respectively after both failed an attempt on a technicality.
Chyna had an Australian junior bench record to re-claim, and she did so whilst going 3 from 3 attempts and finishing on 56.5kg, 5kg above her bodyweight!
Jess showed why she is one of the best benchers in the country by setting a new Australian open record of 87.5kg. At the time of writing this, that is the biggest bench in Powerlifting Australia for a female!
Deadlift
After missing her first 2 deadlifts with records on the line at her last competition, Chyna kept my hair from going grey on this occasion by pulling her first 2 deadlifts and securing her squat and bench records along with a 259kg total. Chyna's VIDEO
Sarah smoked all of her deadlifts, pulling 3/3 and finishing with 150kg (10kg PB) to compile a 325kg total. Sarah's VIDEO
Natasha loves deadlifts. She loves them so much she pulled 125kg for a 15kg PB!
When Natasha first joined SSG, her deadlift was 102.5kg (already over 2x bodyweight), and she has put 22.5kg on top of that in just 6 months! Natasha totalled 272.5kg. Natasha's VIDEO
I'm not sure if Zoe loves deadlifts as much as Natasha does, but she also pulled 3/3 and finished on 132.5kg which was a 15kg PB, and 32.5kg more than what she lifted less than a year ago. Zoe totalled 307.5kg. Zoe's VIDEO
After squatting 148kg and benching 87.5kg for new Australian records, Jess was pretty smoked. However she still managed to pull 2/3 deadlifts and finish on 147.5kg to put togethor a massive 383kg total. Jess's VIDEO
Im extremely proud of the girls performances, all of which are now ranked in the top 10 in Australia for their respective weight division!
The Guys
The Strength Sports Gym powerlifting team had 7 guys in the competition: Matt Bourne (74 Bench), Sven Laasme (74), Peter Nguyen (83), Nathan Olsson (93), Paul Muller (105), Niel Verrall (105) and Lynden Harbour (105).
Squat
Sven, Paul and Nathan all had the perfect start to a comp, going 3 from 3 on squats and finishing on 170kg for 10kg & 20kg PB's respectively.
Peter smoked 170kg on his 2nd attempt for a 10kg PB and narrowly missed 175kg on his third, great squatting for a first competition.
Niel, our 18 year old 105kg lifter who has been training for less than a year managed to squat 172.5kg (7.5kg) in his very first competition, which is also just 5kg off the Australian Sub-junior record!
Lynden blasted through his squats with a flawless performance and took home a 200kg squat which was a 20kg PB!
Bench
Sven and Nathan continued their 3/3 performance on bench, finishing with 122.5kg & 127.5kg respectively.
Niel, Paul and Lynden all went 2 from 3 attempts and finished on 95kg, 115kg and 132.5kg. Lynden blasted up 140kg on his third attempt but unfortunately failed on a technicality.
Peter opened his account on an easy 110kg press, and followed it up with 117.5kg before he had a genuine crack at breaking his ribs when he dropped 122.5kg on his chest. Thankfully he was alright, and continued on in the competition without any drama.
Matt, one of our newest members competed in bench-only due to a few ongoing injuries which prevent him from doing all 3 lifts. Matt showed everyone why he is one of the best pound for pound benchers in Australia as he lifted 160kg at a bodyweight of just 73.2kg. This was 4.5kg over the current Australian open record, but unfortunately for Matt he hadn't been a member of our federation for the required time to set an open record, so he will have to wait until later in the year to take the record. Matt's VIDEO
Deadlift
Sven continued his flawless performance as he successfully pulled all 3 of his deadlifts, managing a 200kg (20kg PB) pull on his third attempt, for 9 from 9 attempts and a 492.5kg total. Sven's VIDEO
Niel also managed 3 from 3, finishing on a high with a 180kg deadlift (10kg PB) and a 447.5kg total. Fantastic lifting for an 18 year old, with massive potential. Niel's VIDEO
Nathan overcame a grip issue on his 2nd attempt, to pull 210kg (15kg PB) for his third to go onto his 507.5kg total. Nathan's VIDEO
Peter blasted up all 3 of his deadlifts and finished with 225kg (10kg PB) and a 512.5kg total. Great lifting for Peter on his debut into powerlifting. Peter's VIDEO
Big bad Paul Muller smoked all 3 of his deadlifts, pulling an awesome 230kg on his third attempt, into which he busted out an awesome C walk. Paul totalled 515kg. Paul's VIDEO
Lynden finished his deadlifting with a successful attempt on 240kg (20kg PB) and a 572.5kg total. Lynden's VIDEO
After a massive day of lifting, every SSG powerlifter hit multiple personal bests lifts and finished with personal best totals.
The biggest credit needs to be given to all of the individuals who helped out at the competition. We had over a dozen people put their hand up to help make the event a success and it truly wouldn't have happened without them.
They were our spotters, loaders, referees, scorekeepers, helpers, bbq cook's, photographers, videographers and supporting gym owners.
We look forward to going bigger and better at our next competition in 2014!
Yours in strength,
Nick Dorn