Gold Coast Barbell Beach Bash – September 2013 Powerlifting Comp: Recap
On Saturday September 14th, Strength Sports Gym powerlifters Nick Dorn and Scott Upston competed at the Gold Coast Barbell Beach Bash.
Although our competition training cycle was 12 weeks, this comp was a long time in the making for me after being nearly 15 months since my last 3 lift competition.
Due to coaching commitments, reffing and running our first Powerlifting Australia competition I had only managed to fit in a bench only comp at the 2012 Matti Tikka.
Scotty joined Strength Sports Gym as a seasoned veteran of powerlifting in the new year and his most recent competition was the raw nationals held in Melbourne in March this year.
In that competition Scotty was succesful on all 3 of his squat attempts for the first time and this lead to a PB total of 710kg in the 120kg division and an Elite 2 grading.
Squat
As always, the day started off with squats, and Scotty and I both opened on 235kg.
We both lifted it with relative ease, Scotty so much so that it nearly launched off his shoulders at the top of the lift.
I called 245kg (equal PB) for my second and Scotty took 250kg (5kg comp PB).
Much like the openers, we both lifted our second attempts with good control and speed which set us up perfectly for our third attempts.
Scotty's goal for his squat at the competition was 260kg, which would be a 15kg comp PB. He had done everything required in training to lift the weight, and he executed his third attempt perfectly, with what looked to be a few more kilos in the tank! Scott's 260kg squat is 14.5kg above the current Masters 1 record, which he missed out on due to a shortage of national referees.
I called 255kg for my third attempt, which would be a 10kg PB and help form a strong competition total. Everything went exactly to plan and I lifted it successfully to finish the squats, with Scotty and I both going 3 from 3 attempts.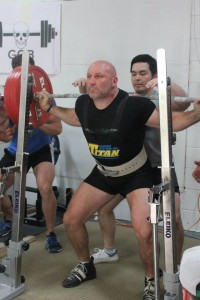 Bench
In the same fashion as our squats, Scott and I both opened on the same weight (155kg).
This was an easy weight for both Scott and I, and it set us up for our next attempts on 162.5 which were both successful. Scott passed on a third even though he had at least another 10kg in him due to wanting to save his energy for a big deadlift, and I took my goal weight of 170kg as my third attempt. 170kg was right on the money in terms of weight selection, and I may have even been lucky to have it passed as it looked a little shaky on the way up.
Nevertheless I continued on with 3 from 3 attempts in the bench, and Scotty adding an easy 162.5kg to his sub-total.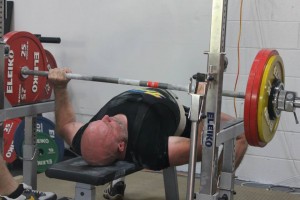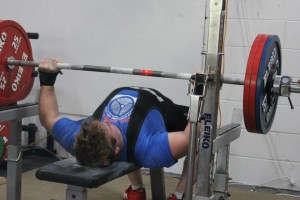 Deadlift
On to the deadlifts, and we were both carrying some great momentum into the final lift of the day, having not missed any attempts.
After ripping up 280kg on his first attempt, Scott called for 305kg on his second attempt, which would be a 5kg PB, and 4.5kg above the current Masters 1 record in the deadlift, and he smoked it!
Unfortunately he missed an all out effort on 310kg on his third attempt, which im sure he will be keen to lift at the Commonwealths in New Zealand later this year.
Scott finished with 7 from 8 attempts, and a new PB total of 727.5kg which gave him 1st place at the competition and puts him at 3rd in the Australian 120kg division and 13th in the Australian top 20 list across all weight classes.
Going into the deadlifts, I stuck to my plan of opening on 245kg for an easy opener to secure my total.
Following my opener, I called for 265kg on my second attempt to boost my total up to 690kg, which successfully gave me an Elite 2 grading in the 105kg class and secured first place in the 105kg division at the competition. Having successfully lifted 265kg on my second attempt, the only reasonable option was to take 275kg on my third to go for a 700kg total which was always my underlying goal for the day.
With the support of the SSG crew, and not a kilo to spare, I pulled it to finish with 9 from 9 attempts and a 700kg total. My new total puts me at 4th in Australia for the 105kg division, and 18th in the Australian top 20 list across all weight classes.
A perfect day of lifting to reward the hard work that went into making it happen.
Huge thank you to the organisers, ref's, spotters, loaders and especially the SSG crew for coming to support Scott and I at the competition.

Click Here for Nick's 700kg Total VIDEO
Click Here for Scott's 727.5kg Total VIDEO